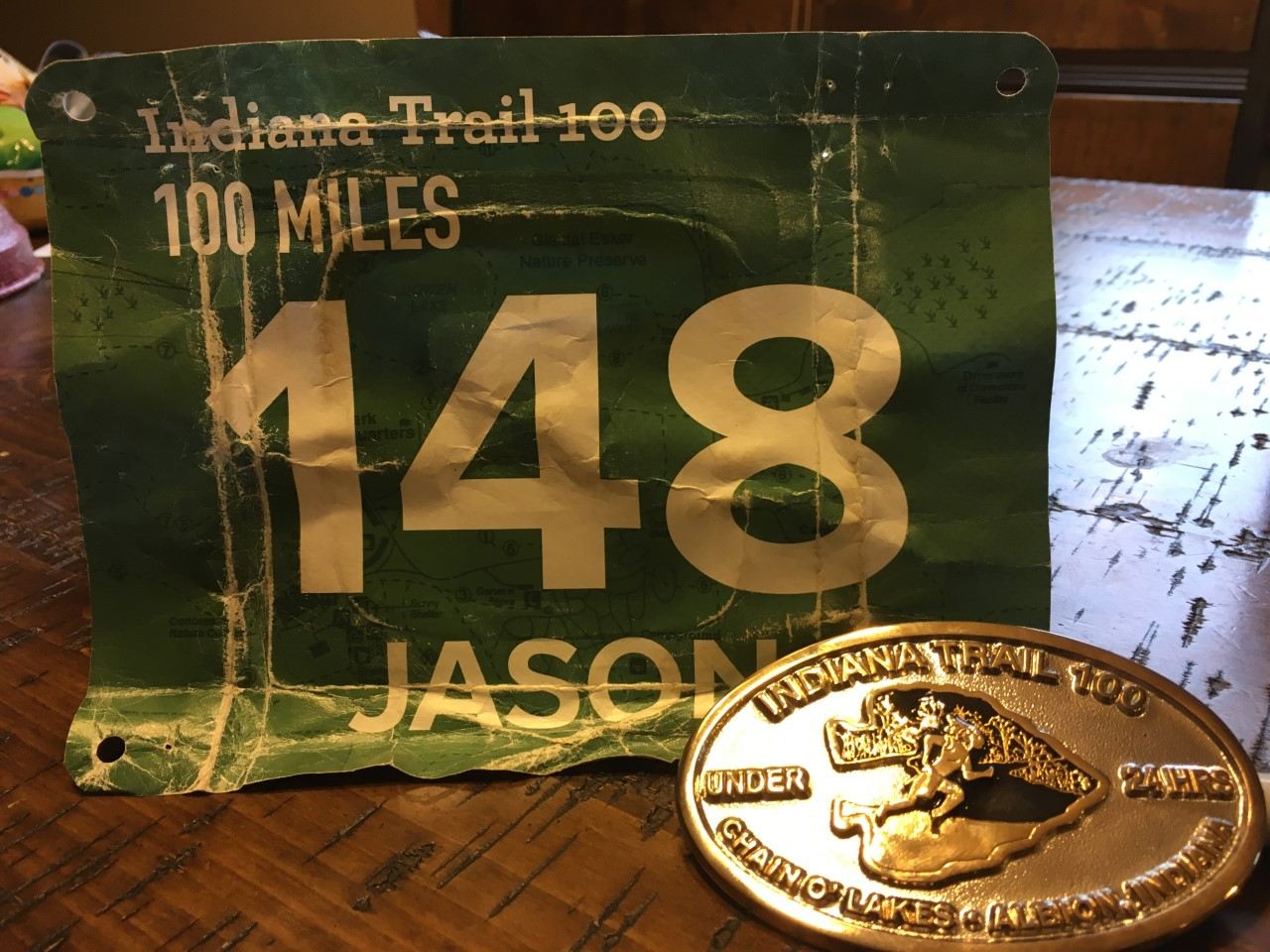 This is my first IT100 and my 8th 100 mile finish.  I trained, with no racing, for six months leading up to this event.  I changed my diet and added weight/resistance training to the mix.  I felt extremely good going into this.  There were no injuries to think of, thanks to Dawn Stine's wonderful massages every three weeks.  I also took most Mondays and Fridays off.  Through my peak training, I was hitting eight workouts a week and averaging 90-110 miles, peaking at 140.  Arden was extremely supportive, as always, and wanted me to run my best race in front of the hometown crowd.
Throughout training, Kelly Cearbaugh would continually check up on me.  He was pacing me from miles 80-100, and he was desirous of a good, last loop.  He wanted to know about nutrition, shoe and clothing selection, and lap timing.  I had pretty much settled on Foodzone Portables being a main source of on-the-run nutrition with major supplements coming from the aid stations.  I wore ToPo Mt2s for loops one and two, while Salomon Sense Soft Grounds worked very well for loops three, four, and five. As far as lap timing went, my "A" goal was going under 20 hours.  We focused on going just under 4 hour loops.  However, with the possibility of some crazy weather blowing in at any time (and the race being suspended), I knew banking a little time while conditions allowed was going to be the new schedule.
Goals (I always have a tiered goal pattern):
Sub 20, top 5
New PR (under 22:37)
Sub 24
Finish (at all costs)
The night before the race I decided to sleep at the start line in the van.  I ate a thin and crispy Papa John's extra cheese, extra bacon pizza for the fat and to top off the carbs.  I walked part of the new section and the finish line hill.  The course was in epic shape.  I decided to start in the ToPos, would switch into the Salomon SGs if the course became muddy.  If I needed more toe box room, I had Altra Lone Peaks on back-up. I wore only one pair of Injinji socks for the duration, even though I had about ten pairs of other socks at the ready.
Loop 1:
Kelly and I planned on getting to Hill Top aid in about 90 minutes.  I was there in 69.  I felt amazing-there had been no racing since October and I was so excited for the conditions and to be out there with everyone.  I ran those 7 miles with Shawn Maynard, who set his 50 mile PR.  There was music.  Dawn had mentioned to go out with music and run my own race.  I listened to music AND ran with people.  I just went out too fast on this portion, but digestively, everything felt so good. After Hilltop, I settled in on a 16:4 run:walk, met Adam Warton (the eventual winner) and finished the loop in 3:15.  Conditions were great and the MT2s handled the course very well. Most 100 mile veterans would say this is the beginning of an ultra horror film.
Loop 2:
Another great loop running the 16:4. Adam and I had separated for a bit and then caught back up with each other.  He was interested in the run:walk strategy and was noticing that even with four minutes of walking we were hanging pretty close.  We were also leap-frogging with Bibo Gao (the eventual female winner).  This was a great loop.  Energy was dipping just a touch and I made sure I was taking in plenty of rice balls.  Both the sweet and sour chicken and bacon, sweet potato  were going down easily.  Metallica was the major band on the playlist and sounding incredible.  I finished this loop in 3:25 feeling good, but knew this wasn't a 50 mile…I needed to eat a bit more and focus on a little better (slower) 100 mile pacing.
Loop 3:
I came through the start/finish sooner than expected.  The venerable Tom Gilbert was on time, according to our previous schedule, but late for this "beating the storm" pace.  He dutifully sped through check-in, changed, and caught up to me before I entered the hills of the new section.  I told him this would be an "eating" loop.  Taking a few extended walk breaks so I could eat some bacon and burgers, the lead group stretched about fifteen minutes ahead.  Tom and I enjoyed some light conversation and I had probably the biggest energy boost of the race.  Looking back, I really ran the 2nd half of loop 3 way too hard.  Tom and I were taking the walk breaks, but running with a little abandon.  Had I metered out this new-found energy, loop four probably would've turned out a little different.  But, loop 3 will go down as a great run with an awesome friend.  I felt like bending steel and shooting eye lasers! Tom will definitely be on a short list of great pacers for future races.
Loop 4:
Loop 4 was probably my most anticipated.  Ashtyn had played an important role in getting me through a rough patch at Burning River 100 last summer, and I was excited to have her back. The loop would start with her boyfriend: Collin Cahill.  Collin is an accomplished cross country runner for Bishop Dwenger and an even better speech strategist.  He's ranked in the top 5 in the state for the comedic division.  I've found that my roughest patch in 100s is usually between miles 60 and 80.  I wanted youth and exuberance to guide me through this patch and these two did not disappoint! However, five miles in to the loop I was puking…not good! I had decided to have a little coke at the end of loop 3 and mix my bottle 50:50 coke:water starting loop 4.  I wanted the quick calories.  I had not ingested coke or any full-sugar soda for six months.  This was not a good decision.  Along with some chicken noodle soup at Southpark aid, I lost my cookies about two miles short of Hilltop.  I kept hydrating, ate another 1/4 burger and ran out to Rallycamp.  I puked again at the gate house road crossing and knew things were not ideal.  Collin did a phenomenal job keeping my spirits up.  He did everything I asked and added some needed conversation to keep my mind of the stomach's rebellion.  We arrived at Rallycamp.  Collin quickly filled Ashtyn in on what had transpired and I had a group of very qualified runners surrounding me.  Chris Beck, Pete Burrill Jr., Arden, Dawn Stine, and probably a few more were attempting to address my stomach.  I took in some medical grade electrolyte replacement, papaya extract, neck and shoulder massage from Dawn, several cups of water, and some Scaps from Ashtyn.  All for naught.  Ten steps out of the aid, the depths arose once more.  It seemed that every muscle was contracted in dry-heaving convulsions.  I had reached a new personal record for the current amount of spewage.  I knew I had about 7 minutes where I'd feel ok, so Flash went back to the drop bag, grabbed a GU Stroopwafel, and I was able to get some of that down with a little water.  We walked for a bit.  Ash was great.
She reminded me that we were still ahead of our original schedule and we had much better conditions than when she had paced AJ Arnette a couple of years prior.  We ended up settling on a 7:3 run:walk and maintained that schedule.  This lap, of course, was quite a bit longer than the three previous.  We made it to start/finish at 10p.
Loop 5:
This loop had a major twist.  The storm that was supposed to "cancel" the race had held off much longer than anticipated.  Leaving the station to start loop 5, Kelly Cearbaugh and I heard that we should only get "light sprinkles" for the duration.  On our way to the final Southpark aid, we had thunder, lightning, and a quick downpour.  I was quickly chilled and knew if we ran into any more weather, I would need a clothing adjustment.  I was able to get two Clif banana, mango, coconut pouches and about seven ounces of Tailwind down during this loop.  We arrived at Hilltop.  AJ let us know that a "major" weather event was about fifteen minutes out. I looked at Kelly, he looked at me.  "We need to go."  I nodded, but was not happy about be caught in a major storm on the northern boundary trail.  AJ provided some trash bags and we were on our way.  In a wide-open field.  With no tree cover.  Two minutes out, the storm struck, hard.  I ran under a tree on the side of the field and donned a trash bag poncho and IMMEDIATELY sprinted back to Hilltop.  Sitting here, a week post-race, I should've continued on down the trail.  I've ran in major storms several times.  I've installed gutter in the worst of storms.  This, for me, was the weak move of the race.  Had I gone on, I probably would've been closer to sub 21 hours and felt much better about my performance.  However, there were many DNFs from runners who were caught in this storm.  Along with the storm came much cooler temps; which lead to hypothermic conditions.  I definitely played it on the safer side…and finished.  So, in the tent, after twenty-five minutes, AJ and Kelly pulled in the Big Gun: Vince Corona.  There is really no one else, maybe besides Jon Clinthorne who could get me back in the game.  Vince had some very tough love from me in 2014 when he was cutting down a  forty-five minute deficit from first place.  I never let him stop, not once.  Here I was, stopped, in the tent, with the extremely helpful Dani Sullivan duct taping foil blankets to my legs.  When Vince saw this, he absolutely knew he had to get to work.  He got me out of there with his personal poncho and hand warmers.  There was nothing against anyone else's advice in that aid, but Vince was the one to give me the ass-kick'in of the race.  I would've eventually left, but I probably would've lost double or triple the time without Vince.  Thanks Vinny! The rest of the loop went fairly well.  We eventually stripped the ponchos and space blanket.  Kelly made a sweet deal that if I ran from Rally to the finish, he'd serve an all-you-can-eat buffet of morel  mushrooms later in the week.  We had very little walking from 90-100 miles.  It was muddy, but my Salomons were hooking up.  I didn't eat, barely drank, and didn't throw-up.  Finished in 22:03:34 for 11th place.  It was an absolute pleasure finishing another 100 with Kelly Cearbaugh.  It's been quite a year since I paced him at IT100 2016 and he paced me at ThunderRock100 2016.  I enjoy every step ran with this guy.  I'm looking forward to many more adventures with him.
Things I learned (Reflection Time):
Stick to the nutrition plan.  Why did I switch to Coke if my stomach was doing ok? This was silly.  Barry Adams mentioned before the race to NOT switch a plan until a viable option comes up.  I had no need to switch and should've stayed on rice balls and GU hydration tabs.  I feel the Coke helped to hijack my fat metabolism in some way and was just too much.
High Fat, Low Carb, for me, is a viable way to train and race.  Even though I lost my cookies at mile 65, I had very little inflammation and felt incredible leading up to that point.  I was also able to consume very few calories on the final loop and continue to run (albeit not fast, but still running).  I had very few energy dips and injuries during this six-month training block.  In addition to regular Dawn Stine massages, the nutrition really helped to maintain high mileage.  After this week, I will continue this diet with a few minor tweaks. I'm very thankful for Ryan Jackson's insights and help with this nutrition plan.
Home town races are incredible.  Everyone said it. I knew it from pacing.  However, to be out there running 100 miles and to know that I would be encouraged every five miles is extremely helpful.  Every loop, every aid, everyone was smiling and cheering.  The Steve Carr Triple Cowbell was in full effect!
Pacing Strategy.  Not sure what would've happened had I came in twenty minutes later during my first two loops.  Can you really "bank" time during a 100? Would it have really mattered when the storm came? One of the problems is that my heart rate was in the right zone for those first loops and I felt like I was simply floating.  I did not feel that I was under a load.  I'll probably just need to run the race again and see what happens with an updated pacing strategy (and a more consistent fueling strategy).